UK business confidence sees 'record drop'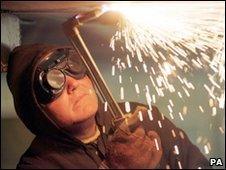 Business confidence among UK firms has seen its biggest drop since 1995 due to the government's rhetoric on spending cuts, a survey suggests.
The Business Trends survey from accountants BDO fell to 97 in May from 103.3 the previous month - the largest drop since the survey began.
BDO said economic growth forecasts for this year and next now need to be revised down sharply.
The new Office of Budget Responsibility (OBR) will publish its forecasts later.
The OBR was formed in May 2010 to make an independent assessment of the public finances and the economy.
BDO's survey is compiled by the Centre for Economics and Business Research and covers 11,000 companies from a range of industries.
Despite the fall in confidence, it also found that order book growth was strong in May.
"The government has understandably been keen to emphasise the extent of the sacrifices that we all will need to make as public borrowing it brought under control," said Peter Hemington, partner with the firm.
"But there is a significant risk that the rhetoric has begun to impact on business confidence, and fears of the economic impact of spending cuts may be causing businesses to rein back on growth plans."
The accountancy firm forecasts that economic growth will remain below an annualised 1% in the final three month of this year.
The annualised rate takes growth over a three-month period and works out what it would be if it continued over a full year.
Government forecasts for growth in 2011 should now be between 1.5% and 2.5%, well below the 3% to 3.5% that the previous government estimated, the firm said.
"Freefalling business confidence paves the way for downwards growth revision," it concluded.
Many economists also believe that the previous chancellor, Alistair Darling, was too optimistic in his growth forecasts.
However, recent government pronouncements on the need to make drastic cuts, BDO says, could lead to even lower growth.
Last week, Prime Minister David Cameron warned that dealing with the deficit would be "unavoidably tough" and affect "our whole way of life".
Chancellor George Osborne has identified £6.2bn of savings and outlined cuts to quangos, spending on consultancy and big IT projects, and a civil service recruitment freeze.
More detail on the cuts will be announced next Tuesday in an emergency budget.
The UK, along with other European economies, is looking to cut sharply its budget deficit, which grew sharply after government intervention during the financial crisis.
Countries with high deficits, most notably Greece, have to pay higher rates of interest to borrow from international investors to service their debt, which serves only to compound the problem.
Related Internet Links
The BBC is not responsible for the content of external sites.