Work placements to help graduates into rural businesses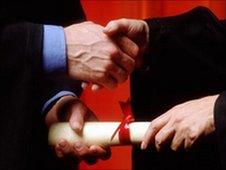 A work placement project to help university students and graduates into businesses in rural parts of Scotland is being launched.
The £2.4m scheme will enable firms across the Highlands and Islands to take on the extra staff to focus on innovative projects.
Wage subsidies will be provided to companies to pay the graduates, students and post-graduates.
The initiative aims to place 350 people with firms over the next three years.
The Talent Scotland Graduate Placement Programme will also allow small and medium-sized businesses to tap into the latest research and technological developments in their fields.
Undergraduates will take part in an eight-week summer placement project, while graduates can participate in a six to 12-month paid posting.
Graduates will also be placed in businesses to help transfer their university knowledge in placements lasting between 10 to 40 weeks.
Highlands and Islands Enterprise (HIE) has invested £1.37m into the initiative.
The organisation's chairman William Roe said it would help businesses to think innovatively while giving future entrepreneurs vital experience in a full-time job.
He said: "Survey figures indicate we have a lower number of graduates in the Highlands and Islands workforce than the Scottish average.
"We want more young people to see the range of opportunities that exist in the region and to stay here or return after they have finished their study to work."
Partners in the project include the Scottish government and the Scottish Funding Council.
Keith Brown, the minister for skills and lifelong learning, said the programme would provide a valuable opportunity for graduates to "gain a foothold" in businesses in rural and fragile communities.
He added: "The creation of more direct links between business and universities will stimulate further innovation and enhance business performance across the area."
Related Internet Links
The BBC is not responsible for the content of external sites.