Plans for iconic Derbyshire pavilion on show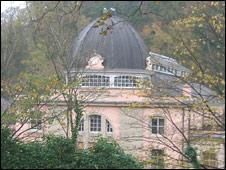 Draft plans for a major renovation of Derbyshire's Matlock Bath pavilion have gone on show.
The two-day exhibition hosted by the Save Matlock Bath Pavilion group started on Saturday.
The plans show details of a new 400-seat theatre to be used for concerts, theatre productions and other shows.
Visitors checking can also add to a bank of photos, drawings and memories of Matlock Bath pavilion over the years.
A mining museum is housed in the ground floor of the pavilion, but the upstairs has been empty since a nightclub closed in June 2008.
The pavilion at Matlock Bath has been a well-known attraction in the area for almost 100 years.
Related Internet Links
The BBC is not responsible for the content of external sites.