Caution urged over the reaction to the Saville report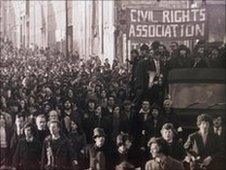 A Protestant community worker in Londonderry said she hoped there would not be a knee-jerk reaction to the publication of the Saville Report.
The report into Bloody Sunday will be made public on Tuesday after 12 years and at a cost of almost £200m.
Catherine Cooke said it would be unhelpful for anyone to focus on just one part of Lord Saville's findings.
"I just hope people take their time to read the report, which will be lengthy, before making rash comments.
"The events of Bloody Sunday have had a massive influence and impact on this city and the troubles.
"I hope that all the recommendations will be given equal priority."