Former British soldier's Iraq murder trial adjourned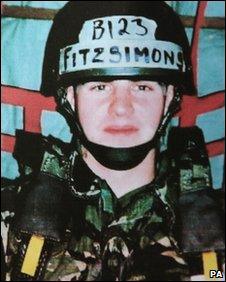 The trial of a security guard from Greater Manchester, accused of murdering two colleagues in Iraq, has been delayed until 4 August.
Former soldier Danny Fitzsimons, from Rochdale, is accused of shooting dead the men who worked alongside him for security firm ArmorGroup.
The trial, scheduled for January in Baghdad, was due to begin on Monday.
It has previously been adjourned to allow for the preparation of psychiatric reports.
Mr Fitzsimons' defence team have said that at the time of the incident he was suffering from post-traumatic stress disorder as a result of his experiences while serving in Kosovo with the British army.
He is accused of killing Paul McGuigan, of Peebles, Scotland, and Darren Hoare, of Queensland, Australia, both 37 on 9 August, 2009.
Mr Fitzsimons' family in the UK have called on the British government to bring him back to face a trial under the UK judicial system.