Man burned in gas explosion at Doncaster flats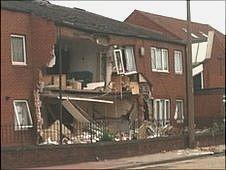 Two men have been taken to hospital, one with serious burns, after an explosion at a flats complex for elderly people in South Yorkshire.
Gas caused the incident at the properties in the Chapel Street area of Bentley, near Doncaster, police said.
Two of the 14 flats in the two-storey building have been damaged.
Yorkshire Ambulance Service said two men were taken to hospital. One had serious burns and the other had difficulty breathing.
The burns victim was later transferred from Doncaster Royal Infirmary to a specialist unit at Sheffield's Northern General Hospital.
The fire service said one occupant was unaccounted for but he often stayed away from his flat and he was not thought to be in the building at the time of the explosion.
District manager Tony Carling said gas was still leaking into the building and firefighters would carry out a full search of the premises once it had been capped.
He told BBC News: "Once we get the situation under control, the gas capped off, we'll be looking to reduce the cordons and start letting people have their lives back in the surrounding area."
Residents were evacuated from the building and are being cared for at a nearby public house.
A team of engineers will assess the structural integrity of the building before making a decision as to whether the residents can return or will require council accommodation.
Ray Middleton, who lives nearby, said: "I heard an almighty bang at half past six this morning. It got me out of bed.
"Then when I walked up the road the residential place had disappeared, the frontage has totally disappeared."
A South Yorkshire Police spokesman said: "There was a gas explosion at the block of flats.
"All the occupants have been evacuated from the building for their safety.
"The fire service, gas and electricity board are all on the scene and everything is in hand."
Doncaster Council said it was "working with partner agencies to support the residents affected and make the surrounding area safe, including the clearing up of debris on the main road".
Chapel Street, nearby side roads and the A19 High Street are closed to traffic.
Related Internet Links
The BBC is not responsible for the content of external sites.