Sunday papers mull England keeper's World Cup blunder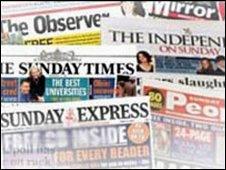 England goalkeeper Robert Green is shown in various agonising poses on almost all the front pages.
He can be seen trying to save, then stretching, then slumping to the ground after an equaliser by the USA in the World Cup on Saturday.
Defence Secretary Liam Fox confirms in an interview that Sir Jock, along with the department's top civil servant, Sir Bill Jeffrey, will quit in the autumn.
It is a clean sweep at the top, which the paper says is intended to improve performance on the Afghan front line.
The Sunday Times also suggests uniformed personnel could be cut to save money.
Also resigning is an official from the new Independent Parliamentary Standards Authority - the new expenses watchdog.
The paper's front page headline says Mr Gooding was "forced to quit" by MPs who are worse off under the new regime.
But inside, he denies having been hounded out by bullying MPs. "I have decided to take a break that I desperately need," he says.
It reports that next week's Budget will include increases in the tax on beer, wine and spirits.
But the News of the World warns the chancellor that if he increases tax too much, he will cut the amount of money going to the Treasury.
Related Internet Links
The BBC is not responsible for the content of external sites.