Plea to stop ignoring Shiplake railway crossing lights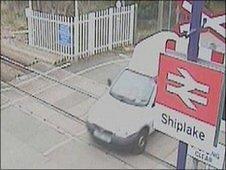 Network Rail has urged drivers to stop ignoring warning lights at a railway crossing in Oxfordshire.
There have been 28 reports of dangerous and illegal behaviour at the Shiplake crossing since 2007.
These included five near-misses where trains have narrowly avoided hitting a vehicle.
The rail operator said motorists and pedestrians frequently ignored the warning signs and risk their lives crossing when the lights are flashing.
It said the "true figure" of how many people misused the Shiplake crossing was "likely to be significantly higher".
Liz Heading, community safety manager at Network Rail, said: "Jumping the lights and ignoring warning signs is sadly a sight we see all too often, and in many cases with tragic outcomes.
"Level crossings are safe, but if misused, they all pose very real risks.
"We're driving home the message that running the risk at a level crossing is just not worth it.
"By trying to save a few seconds, you could end up losing your life."
Related Internet Links
The BBC is not responsible for the content of external sites.