Acas proposals submitted to end British Airways dispute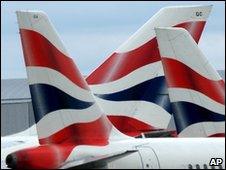 A new set of proposals to end the British Airways (BA) industrial dispute has been unveiled by the arbitration service Acas.
Cabin staff have been carrying out a series of strikes in a row over pay and working conditions.
So far 22 days of strike action called by Unite union have been held, costing the carrier more than £150m.
A Unite spokesman welcomed Acas's move, adding that there was "no wisdom in a protracted conflict".
"Unite has always said that a dispute should be avoided," the spokesman said.
He added: "Only a negotiated settlement will bring the peace and stability to BA that it needs."
But there was a cooler response from joint general secretary Tony Woodley earlier, who said he would be "pleasantly surprised" if the Acas proposals formed the "basis of a resolution".
"We stand ready, however, for yet more discussions," he said.
Acas chief conciliator Peter Harwood described the dispute as being "very damaging" for all concerned.
Mr Harwood said: "The proposals we have put forward must understandably remain confidential to enable the parties to reflect on them without the glare of publicity.
"I am expecting to meet the parties again early next week but the timing of the meeting and its location will be kept secret."
The most recent strike came to an end on 9 June, with further walkouts threatened in July.
A spokeswoman for BA said: "We can confirm Acas's statement is correct but it would not be appropriate to start commenting further at this time.
"The process is continuing. We do not give a running commentary on our discussions with Unite."
Related Internet Links
The BBC is not responsible for the content of external sites.