Cold War bunker near Broadway Tower opens to public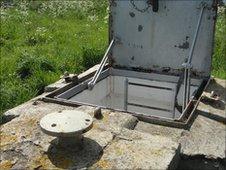 A Worcestershire Cold War nuclear bunker has been opened to the public for the first time.
The 20ft (6m) two-room underground structure near Broadway Tower was mothballed in 1991 and has been left almost exactly as it was.
It dates back to the Second World War and was used by the Royal Observer Corps.
Its role in the Cold War would have been to monitor where nuclear bombs fell and their radiation.
Neil Thorniwork, the general manager of Broadway Tower, said it was a good chance for people to learn about the Cold War past.
"The place is exactly as it was in 1991 except some of the equipment has been taken out," he said.
"There are people on site who actually worked not only here, but on similar establishments, and can talk about their role."
The Cold War was the term used to describe the often tense relationship between the west and the former Soviet bloc after the Second World War.
It lasted until the collapse of Communism in the late 1980s and early 1990s.
Related Internet Links
The BBC is not responsible for the content of external sites.