Burma denies nuclear weapons programme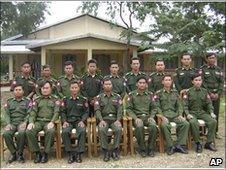 The Burmese government has denied recent reports that it is developing a nuclear weapons programme.
A statement from the foreign ministry said foreign media reports alleging such a programme were "politically motivated".
The Norway-based Democratic Voice of Burma (DVB) broadcaster had run a documentary based on a defector's information about a nuclear plan.
US Senator Jim Webb cancelled a planned trip to Burma due to the reports.
The Burmese government labelled the allegations "baseless accusations" based on the information from army deserters, fugitives and dissidents.
It said Burma was a peace loving country with "no intention to possess nuclear weapons as military power."
Analysts have raised concerns in recent months that Burma was cooperating with North Korea in developing nuclear technology.
The Burmese government statement denied this also, saying the docking of a North Korean ship in April had been routine and involved trade in rice and cement, not nuclear parts.
It said an earlier agreement with Russia to develop a 10-megawatt reactor for peaceful purposes had been put on hold for lack of resources.
The DVB documentary featured Major Sai Thein Win, who said he had been part of engineering unit developing a nuclear reactor and rocket engine parts in a military facility.
The Burmese government said Mr Sai was Russia-trained but not a major and had deserted from the army in February.
If Burma was proved to be conducting nuclear weapons research it would be subject to United Nations sanctions.
Burma has signed the Nuclear Non-Proliferation Treaty and is a member of the International Atomic Energy Agency.
Related Internet Links
The BBC is not responsible for the content of external sites.