HMS York back from Falklands seven-month deployment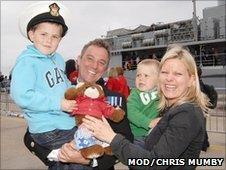 A Royal Navy warship has returned to Portsmouth after a seven-month deployment to the Falkland Islands and the South Atlantic.
HMS York, a type 42 destroyer, was on patrol when tensions rose between the UK and Argentina about exploratory oil drilling off the Falklands.
The ship also assisted tanker RFA Wave Ruler to support an RAF helicopter rescue of an ill trawler man.
The crew's families were dockside and cheered as the ship berthed on Friday.
Since November HMS York has visited Gibraltar, the Cape Verde Islands, Brazil and the Canary Islands.
Chief Petty Officer Dennis Nolan, 37, who was met by his wife Teresa and sons Will, five, and Zac, two, said: "This is my last deployment as I will be shore-based from now until I retire in three years.
"Patrolling the South Atlantic has definitely seen me end that side of my career on a high.
"It has been extremely challenging, especially working within the operational theatre of the Falkland Islands, we had to make sure that we did a decent job by providing a strong mixture of reassurance and deterrence."
Commanding officer Commander Simon Staley said: "The excellent training and support provided prior to our departure last year has stood York in very good stead for what has been a challenging and sometimes gruelling South Atlantic deployment.
"I am immensely proud of these tenacious and loyal men and women and delighted to be returning them safely home to their friends and families."
Related Internet Links
The BBC is not responsible for the content of external sites.