Charity shop gets surprise delivery - from No 10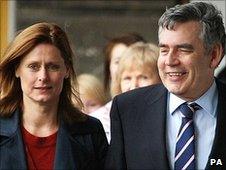 A charity shop in Fife has been overwhelmed by interest from local residents after Gordon Brown donated some family possessions.
To the amazement of the Bethany Christian Trust store in Kirkcaldy, security men dropped off items, ranging from cookery books to teddy bears, which had until recently been in No 10.
Assistant shop manager Andrew Farley said he was "delighted" by the donation.
Mr Brown grew up in the seaside town and remains its MP.
Mr Brown, wife Sarah and his two children moved out of Downing Street last month after he resigned as prime minister.
The items arrived at the store on Wednesday in boxes inscribed with the names of Gordon and Fraser - Mr Brown's youngest son.
Among the goods were toy trucks, wine glasses, Delia Smith recipe books, a toy supermarket trolley and a wooden coffee table.
A teddy bear wearing a T-shirt with the message 'I love GB' has been snapped up for £3.
Mr Farley said the prime minister had a personal connection with the shop, having opened it three years ago.
Since then, the Browns have bought their Christmas trees from the store each year.
"The amazing thing is that he remembered us," he said. "It is his wish these things came here. We really appreciate it."
The level of interest in the items - giving a unusual insight into the Browns' life in Downing Street where they spent 13 years - has been unprecedented.
"Customers have been coming in and saying is there anything from Gordon Brown here. They want a slice of the action."
As a result, the store has decided to stop selling individual items and put the whole lot up for auction in a few weeks' time.
"It will create some interest and better prices hopefully," he said.
The Bethany Christian Trust is an Edinburgh-based charity which works to help homeless people and to tackle the causes of homelessness. It has a number of shops across central Scotland.
Related Internet Links
The BBC is not responsible for the content of external sites.