Lord Prescott among witnesses as Iraq inquiry resumes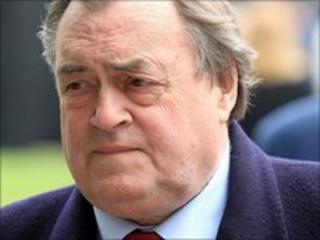 Former deputy prime minister John Prescott is to be questioned at the Chilcot Inquiry into the Iraq war, as it resumes after a break.
Lord Prescott is among 35 new witnesses listed to give evidence during a fresh round of hearings in July.
The inquiry is resuming public hearings after halting for the general election.
Also due to appear are former defence secretary Bob Ainsworth, and two previous heads of the British Army.
General Sir Mike Jackson and General Sir Richard Dannatt will be called along with UN weapons inspector Hans Blix and ex-MI5 director general Baroness Manningham-Buller.
Iraq weapons
The independent inquiry into the UK's involvement in Iraq was commissioned by former Prime Minister Gordon Brown in June 2009 and is expected to report at the end of the year.
It has already taken evidence from witnesses including Mr Brown and fellow ex-prime minister Tony Blair.
The public hearings - which last sat on 8 March - will resume on 29 June and continue to 30 July at the Queen Elizabeth II conference centre in Westminster, the inquiry team said.
No dates have yet been given for individual appearances, and more witnesses will be added to the list shortly.
None of the witnesses from the recent round of hearings is being recalled.
Former deputy chief of defence staff, Lt Gen Andrew Figgures, will appear before the inquiry for a second time, but is giving evidence on a different subject.
Former diplomat Carne Ross, who quit the Foreign Office in 2004 after serving as the Middle East specialist in the UK mission to the UN - where he worked on key resolutions on Iraq - is to appear this summer.
Mr Ross gave evidence to the earlier Butler Inquiry into intelligence mistakes in the run-up to the 2003 invasion, testifying that at no time during his posting did the UK assess that Iraq's supposed weapons of mass destruction were a threat.
Iran ambassadors
Several of the new witnesses were involved in efforts to bring stability to Iraq in the years after Saddam Hussein was ousted.
These will include British commanding officers in south-east Iraq, Lt Gen James Dutton and Maj Gen Andy Salmon; Mr Brown's reconstruction envoy in Basra Michael Wareing and Andy Bearpark and Stephen White, who worked in the Coalition Provisional Authority which ran Iraq immediately after the war.
Former RUC police chief Sir Ronnie Flanagan, who carried out a review of Iraqi police, and Douglas Brand, who was chief police adviser to the Ministry of Interior in Baghdad, are also listed.
Other witnesses include Prime Minister David Cameron's current global affairs adviser, Sir Jonathan Cunliffe, who was a senior Treasury official at the time of the war; former ambassadors to Iran Sir Geoffrey Adams and Sir Richard Dalton; and ex-Chief Secretary to the Treasury Lord Boateng.
In a statement the inquiry team said it was likely it would hold another round of public hearings in the autumn to cover new subjects, provide new evidence, or revisit issues with previous witnesses, if necessary.
Last month the inquiry committee visited the US to question military leaders and officials.
During the five-day visit, the US administrator of post-invasion Iraq, Paul Bremer, said British officials backed the purge of Saddam-era officials.
Senior British diplomats and Army officers have blamed Iraq's post-war descent into chaos on Mr Bremer's policy of de-Baathification, but he said UK officials agreed with it at the time.