Artificial life 'needs regulation' - public survey says
By Pallab Ghosh
Science correspondent, BBC News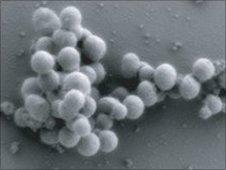 The public wants a say in how research in to the manufacture of synthetic life is conducted, according to a report.
The Synthetic Biology Public Dialogue was commissioned by the two UK research councils responsible for funding what has been dubbed "synthetic biology".
It sets out to advise the funders of this research how best to proceed.
The report revealed that people are comfortable with the the idea of creating life, but only if it is properly regulated.
It also found that people wanted an assurance that the research could bring tangible benefits.
The research councils, the Biotechnology and Biological Sciences Research Council (BBSRC) and the Engineering and Physical Sciences Research Council (EPSRC), embarked on their public dialogue in late 2009.
The resulting report concluded that people wanted scientists who worked with the bits and pieces of life to do so with humility and respect for the material they were working with.
It also showed that people wanted to have a say in how the research was conducted and how grants were awarded. There should be consideration of social values as well as scientific merit, they said.
Professor Paul Freemont, co-director of the UK centre for Synthetic Biology at Imperial College London, said his gut reaction to this idea was that it could be "very difficult".
But he said that as he thought more about it, he decided it was a "good idea".
"We want the science to flourish," he said, "but we also want it to be acccepted. We want the public to engage with it, understand it and also to influence it".
Such direct input by the public has never been tested in scientific research, but the report's author Dr Brian Johnson argues that there has never before been anything as potentially world-changing as synthetic biology.
"We are dealing here with the emergence of a very new culture which is taking biology to where it's always wanted to go," he said.
"We have spent the past thousand years learning how organisms work and interact. What synthetic biology is attempting to do is to not just take organisms apart but to put them together in a new way.
"So this is a real quantum leap in science which people have described as the second industrial revolution".
Following the recent announcement of the manufacture of "Synthia", which was described as the world's synthetic lifeform, many eminent scientists said that some people were "hyping up" the potential of the research.
Some have said that Synthia, created by the US scientist Craig Venter, should not be called a synthetic lifeform at all for technical reasons. And, according to Professor Freemont, a name change would make life easier for those working in the field.
"Having the word 'synthetic' next to the word 'biology' does provoke a reaction in people that can be negative," he said.
But Roland Jackson, chief executive of the British Science Association thinks that a name change for the field would be a mistake.
"Craig Venter did artificially create that cell," he said. "The concept of the synthetic and the natural are difficult oppostions for the public and scientists need to be aware of that.
"But I don't think they should be over-sensitive to it. They should say what they mean and mean what they say and I think the public respects an honest and open approach to this.