Nato upbeat on Afghanistan despite Kandahar delays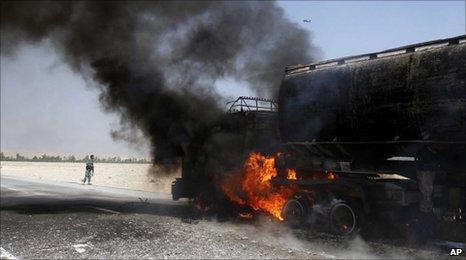 US Defense Secretary Robert Gates has insisted the Nato-led force in Afghanistan is regaining the initiative from insurgents.
He was speaking after Nato talks in Brussels amid growing unease over the mission's prospects.
Nato head Anders Fogh Rasmussen said it was still realistic to aim to start handing over security responsibilities to Afghan forces this year.
But he warned the coalition would have to work hard.
Nato officials concede there is likely to be increased violence over a long hot summer in Afghanistan as the coalition pursues a key operation in and around the southern city and province of Kandahar, BBC defence and security correspondent Nick Childs reports.
Gen Stanley McChrystal, the Nato commander in Afghanistan, said on Thursday that the Kandahar operation would move at a slower pace than planned in order to ensure local support.
A roadside bomb killed nine civilians in the province on Friday while attacks by Taliban insurgents in Afghanistan this month have killed at least 30 Nato soldiers, 20 of them Americans.
Nato accounts for the vast majority of the 130,000 foreign soldiers currently deployed.
'Steadily and sustainably'
Nato members and their coalition partners face a real timetable tension over Afghanistan, our correspondent says.
Political and public impatience and scepticism about the mission are growing while the new Nato-led strategy has been slowing down, he notes.
Mr Gates told reporters that Nato was making progress "slowly, but steadily and sustainably".
"No-one would deny that the signs of progress are tentative at this point, that they are almost anecdotal," he said.
"But if you talk to the people that have been there a while, their view is that the situation is slowly beginning to improve, and that we are recapturing the initiative."
Mr Rasmussen said the strategy was delivering results but the Taliban were fighting every step of the way.
"I still believe that it's a realistic goal that the transition process can start by the end of the year," he said.
"We have to work hard from now to make sure the conditions are really met."
Related Internet Links
The BBC is not responsible for the content of external sites.