Universities warn of cuts' lasting damage
By Angela Harrison
Education correspondent, BBC News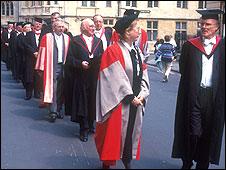 Universities are warning that cuts could inflict "real and lasting damage" on the sector and set back Britain's recovery from the recession.
Vice chancellors say they know there are "tough times" ahead, but they are urging the government to recognise the vital role the sector plays in the economy.
Universities minister David Willetts warned last week that England's higher education sector was on "shaky foundations".
A radical overhaul was needed, he said.
Vice chancellors' group Universities UK (UUK) says most people under-estimate the value of universities.
It commissioned a survey looking at people's perceptions and said it found people "vastly underrated" the economic impact of universities.
A fifth of those asked put the economic contribution of the sector at £100m a year, while a further 10% said it was zero.
In reality, UUK says, universities contribute around £31bn each year to the nation's economy directly and £59bn indirectly.
Universities UK chief executive Nicola Dandridge said: "The reality is that universities contribute a huge amount to the economy nationally and locally.
"We are major employers. In some communities, universities are the main employers - especially in disadvantaged areas. People don't realise that.
"They also feel universities are rather remote with an out-of-date perception that they are for the elite few in ivory towers - when the reality is that two million people go to UK universities."
David Willetts has warned that "tough decisions" will be taken after a review on the future of universities and student funding by former BP chairman Lord Browne.
The findings are due to published in the autumn.
Cuts of £200m in university spending in England were announced recently, in addition to £449m already announced for next year.
UUK chief executive Nicola Dandridge said: "Everyone is facing tough times now and it would be unrealistic for the university sector to think that we are not going to have to do that too. We will not be protected more than anyone else.
"But we are concerned that the cuts could damage our potential contribution to the economic recovery as well as the integrity of universities."
She said many universities had already been cost-cutting, but there was "not much fat left to cut".
"So if severe cuts are inflicted there will be future real and lasting damage," she said.
UUK welcomed David Willetts raising the issue, she added.
"As a society we have to start discussing what value universities have and what the appropriate level of public and private investment should be."
The 2000 people surveyed by Populus for UUK rated universities most highly in terms of their research.
Almost six in 10 said UK universities had a major impact on technological innovation, with another 30% saying they had "some impact".
Universities were also recognised for their contribution to environmental research.
But people were more likely to think pharmaceutical companies played the biggest role in finding cures for disease: 44% said they thought the firms played the biggest role, compared with 24% who thought universities did and 19% who said the NHS did.
Populus interviewed 2010 adults, aged 18 plus, online between May 21 and May 23 2010. Results were weighted to be representative of Great Britain as a whole.
Related Internet Links
The BBC is not responsible for the content of external sites.