Respite reported for Scotland's daily newspaper sales
By Jamie McIvor
BBC News correspondent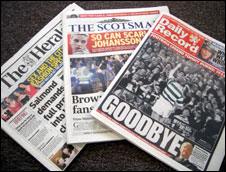 Sales of Scotland's two main quality newspapers may have started to stabilise, according to the latest sales figures.
The Scotsman and The Herald both recorded very small rises in their circulations between April and May.
This was probably helped by the general election and the uncertainty which followed.
However their sales, 45,000 for The Scotsman and just under 55,000 for The Herald, are still down on May last year.
The figures offer some hope for those looking for signs that the dramatic drop seen in recent years may be starting to bottom out.
One factor in the falling sales has been the competition from dedicated Scottish editions of UK-wide newspapers.
As recently as January 2005, The Herald could boast average daily sales of 80,700, while the Scotsman sold about 65,000.
The Times and the Daily Telegraph both produce Scottish editions.
With 24,500 and 23,000 daily sales respectively, they sell substantially fewer copies than either The Herald or The Scotsman, but have undoubtedly eaten into their sales.
But could the recent respite for The Herald and The Scotsman be short-lived?
One question concerns price - this week both the Scottish Daily Mail and the Scottish Daily Express launched a so-called "price war" and went on sale for just 20p.
Two years ago the sales of the Mail overtook the combined circulation of The Herald and The Scotsman. Last month the Mail sold 112,000 copies in Scotland.
It is still unclear how long the two middle market titles will continue to cut cut their price.
Aggressive price-cutting by The Sun helped it overtake the Daily Record as Scotland's best-selling tabloid four years ago, and that lead has been maintained even though both titles have seen their sales slip.
Last month the Record sold more than 300,000 copies in Scotland while The Sun sold almost 340,000.
But it's less clear whether price-cutting really helps more upmarket titles make significant gains.
Last summer, the Sunday Herald cut its price to £1.
A relatively modest rise in sales to about 42,000 is unlikely to have increased income, but the price reduction has at least brought stability to the circulation.
The Scottish Daily Mail increasingly regards the Herald and the Scotsman as its principle competitors. Its core market might be described as Middle Scotland.
Next month's figures will reveal whether the Mail's price cut has had any significant affect on its sales - and whether the move has harmed anyone else.
Related Internet Links
The BBC is not responsible for the content of external sites.