St Leonards vicar 'knew marriages were shams'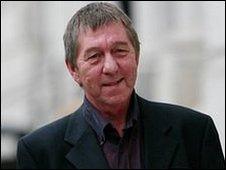 A Sussex vicar accused of carrying out hundreds of scam marriages at his church could not have believed they were real, Lewes Crown Court has heard.
The Rev Alex Brown, 61, of Blomfield Road, St Leonards, and two co-defendants all deny conspiring to facilitate illegal immigration.
Mr Brown presided over 383 marriages in four years, the court heard.
Prosecuting, David Walbank said Mr Brown "knew full well that the vast majority of the marriages were shams".
Jurors heard Mr Brown and co-defendants Michael Adelasoye, 50, of St Matthews Drive, and Ukrainian national Vladymyr Buchak, 33, of Anglesea Terrace, offered eastern European migrants up to £3,000 to marry African nationals.
The jury was shown photocopies of the church's marriage register.
Mr Walbank said 360 weddings involved eastern Europeans marrying African nationals, mainly from Nigeria, over four years.
Mr Walbank said there were "several instances" of participants cancelling one wedding but then marrying someone else one or two months later.
One person was registered to marry a partner, but married another person on the same day, jurors heard.
The court was told all entries on the register were in the vicar's handwriting.
There was at least one instance of someone being registered to be married more than once, Mr Walbank said.
He said: "It's not our case that literally every one of the marriages conducted there was a sham. But you can be absolutely sure that the vast majority were.
"And you can be sure that Father Alex Brown knew full well that the vast majority of the marriages were shams with the purpose of breaching the immigration laws of this country."
Mr Brown, who was suspended from duty after his arrest, presided over 383 marriages at the Church of St Peter and St Paul in St Leonards between July 2005 and 2009, the court was told.
Jurors also heard Mr Brown did not follow Church of England procedures for reading out marriage banns for a substantial part of the indictment period.
The jury was told Mr Brown had already pleaded guilty to a charge of solemnising a marriage without the banns being duly published.
Mr Walbank said if the vicar had read the banns out, regular members of the congregation would have found it "a little odd".
When questioned by police, the church warden thought 20 weddings had been carried out in the six months before Mr Brown was arrested, but in fact there had been 170, the court heard.
Mr Walbank said the organist who usually played at weddings was not asked to provide music to the sham marriages.
And he added: "You may think one of the many sad aspects of this case - and there are many - is the effect it may have on the number of genuine couples who may have been married at the church by Father Alex Brown."
The trial was adjourned until Monday.
Related Internet Links
The BBC is not responsible for the content of external sites.