Soliciting murder accused pair are 'proud neo-Nazis'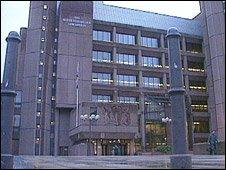 Two men spread racist messages with a goal of encouraging the "eradication of ethnic minorities from Britain", a court has heard.
Michael Heaton, 42, of Manchester, and Trevor Hannington, 58, of south Wales, are accused at Liverpool Crown Court of urging people to kill Jewish people.
Andrew Edis QC, prosecuting, told the court that each man was proud to call himself a neo-Nazi.
Both men deny that internet postings they made solicited others to murder.
"Each is a member of an organisation called the Aryan Strike Force, whose goal it is to clear the country of all ethnic minorities, as they say, whatever it takes," said Mr Edis.
Mr Heaton is standing trial over four comments he made on the Aryan Strike Force website (ASF) between January and April 2008.
In two posts he said about Jewish people "they will always be scum, destroy 'em with whatever it takes", and "I would encourage any religion or race that wants to destroy the Jews, I hate them with a passion", the jury heard.
In another he wrote that black people are "less intelligent than other species" and in another he described Jewish people as "leeches" and "treacherous scum".
Mr Hannington denies one count of soliciting to murder with the post: "Kill the Jew, Kill the Jew, Burn down a synagogue today!... Burn the scum...".
The jury heard that there was no question over whether the defendants made the postings.
"It's what he wanted to achieve when he put that on a forum on a website that matters," Mr Edis added.
The court was told Hannington had already pleaded guilty to possessing information which may be useful to terrorists - the Anarchist's Cookbook, Kitchen Complete and The Terrorist Encyclopaedia.
He has also admitted inciting racial hatred and publishing a post on the internet with instructions on how to make a flame thrower out of a water pistol.
Mr Edis said the guilty pleas demonstrated that he was "to be taken seriously".
The court also heard the pair were in regular contact over the internet with two men who have now been convicted of terrorism charges, including possessing the deadly poison ricin.
Jurors were shown chatroom conversations between them and fellow racists, who called themselves Sweeney and Thorburn.
Sweeney, real name Ian Davison, set up the ASF website and is now in prison.
Thorburn is his son, Nicky Davison, now serving time in a young offenders' institution.
Related Internet Links
The BBC is not responsible for the content of external sites.