Gary Coleman's ex-wife launches bid to control estate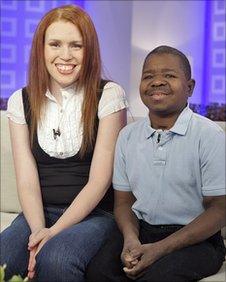 The ex-wife of TV star Gary Coleman has launched a legal bid to take control of his estate.
Shannon Price, who divorced Coleman in August 2008, claims she is still his common-law wife and should be the one to make funeral arrangements.
Her petition was filed in a Utah district court this week.
Coleman, who played Arnold Jackson in Diff'rent Strokes from 1978 to 1986, died on 28 May after suffering a brain haemorrhage.
Price discovered Coleman bleeding severely from the back of his head on May 26, and referred to him as her husband when she called for help.
It wasn't publicly known that the couple were divorced until after his death, as the divorce papers were sealed in Utah courts.
Coleman's last-known will dates back to 1999, several years before he met and married Price.
It names friend and former manager Dion Mial as his estate's executor.
However, Price's lawyers say they have an unsigned will drawn up in 2005 that names Price as the conservator of his estate.
They have also submitted a handwritten note bearing Coleman's signature, which appears to name Price as the soul heir of his earnings, home, toy trains and other property.
"I made this change of free will and was not coerced in any way," says the note, dated 4 September, 2007, less than a month after the couple married.
"This I have done because of my personal selfishness and my weakness and I love her with all my heart."
Speaking to the Associated Press news agency, Mial's lawyer said he had not read Price's petition, which seeks to block his client from making decisions regarding Coleman's burial.
He said the argument that Price was still Coleman's common-law wife was "an interesting theory" and suggested a "full trial" would be necessary to resolve the dispute.