Profile: Catherine Zeta Jones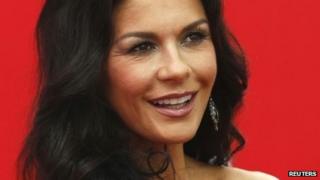 The showbusiness journey of Catherine Zeta Jones, a permanent fixture on the A-list for decades, has taken her from her home in Wales to the Hollywood hills.
Along the way, the 41-year-old has picked up an Oscar, a Tony, a CBE, countless plaudits and a smattering of bad reviews.
She married Hollywood actor Michael Douglas in a lavish New York ceremony in 2000, however the couple have now decided to take some time apart to "evaluate and work on their marriage".
Few could have predicted that a girl born to a sweet factory owner and a seamstress would go on to become one of the most famous actresses in the world.
At the age of 10, the Welsh star won a national talent contest singing a Shirley Bassey song before landing roles in various West End productions.
She got her big break at the age of 17, following a promotion from second understudy to the lead role in the hit musical 42nd Street.
But it was Zeta Jones's first major TV role, in the 1991 comedy drama The Darling Buds of May, that made her a household name.
Set in rural Kent in the 1950s, viewers fell in love with the Larkins, played by Sir David Jason and Pam Ferris.
Zeta Jones played their fresh-faced sweetheart daughter Mariette.
Squeaky-clean perception
Off camera, her personal life began to hit the headlines more than her acting ability.
Her relationship with Blue Peter presenter John Leslie was well documented. She also became involved with Simply Red star Mick Hucknall and Soldier Soldier actor Angus MacFadyen.
After leaving The Darling Buds of May, Zeta Jones turned her attention to film, but admitted finding it hard to shake off the public's squeaky-clean perception of her.
"I am afraid I have this image which is far from the truth," she told The Daily Mirror in 1995.
"I drink, I swear, I like sex. A lot of people got the wrong idea from the start and it seems to have stuck.
"I was so closely linked to the character that if I ever let my hair down, it was thought that I had somehow committed a sin."
The actress went on to star in a series of films which were generally deemed flops, including the 1992 movie Christopher Columbus: The Discovery.
"I don't regret doing it," she told The Daily Mail a year after it was released.
"Although it would have been wonderful if it had been a huge success. But I'm not living in a fantasy world - it just didn't work."
And despite rave reviews for her role in 1996 film The Phantom, it was greeted with lukewarm enthusiasm at the US box office.
But Zeta Jones refused to be put off by the cruel world of Hollywood.
"I'm not after fast bucks, I want a long-term career as an actress, singer and dancer," she said.
"I've worked bloody hard and I won't let my name fade away."
Two years later though, all that changed and Zeta Jones finally bagged herself a role which would propel her into the Hollywood A-list, starring in the Mask of Zorro alongside Antonio Banderas.
Despite the success of the movie, she maintained filming it was "hard work".
She added: "My costumes were insufferable, without an inch to let out after a big lunch. We were filming in a tiny one-mule village called Tixcala, three hours east of Mexico City, in temperatures of up to 110 degrees."
Zeta Jones's performance garnered her a couple of other popular roles, including Entrapment with Sean Connery.
It was as she shot that movie that she met Douglas.
The couple - who share the same birthday - met at the Deauville film festival when Douglas apparently charmed the actress with the line: "I want to be the father of your children."
Musical roots
The 25-year age gap got the gossip columnists talking, but despite the scepticism the couple married in New York in 2000.
Zeta Jones later told Vanity Fair magazine she felt people had been unfair about their relationship.
"The thing that really upset me was the idea that I was this gold-digger," she said.
"Money can create such animosity. But I'm very lucky; I have my own money. I'm self sufficient. I've never had a cent from any guy and I'm very proud of that."
However, in 2003 the couple's high-security wedding became the subject of a complex court battle, after unofficial pictures of their nuptials were published in Hello! magazine, without their permission.
The House of Lords made a partial ruling in favour of OK! magazine - which had paid £1m for exclusive pictures of the event - with the court agreeing confidentiality had been breached.
The couple have two children - Dylan and Carys - and have aimed to keep them both out of the spotlight.
Career-wise, Zeta Jones continued to flourish, winning a best supporting actress Oscar in 2002 for her role in the big screen version of the musical Chicago.
Heavily pregnant at the time, Zeta Jones declared in her acceptance speech: "To everybody in Swansea, south Wales - I love you."
She went on to star in other big budget films including Steven Soderbergh's Traffic, alongside Douglas, and blockbuster Ocean's Twelve, as well as a string of romantic comedies.
In 2010 the actress won a Tony Award for best performance by a leading actress in a musical for her role in A Little Night Music, her Broadway debut.
And in February 2010, Prince Charles made her a CBE in the Queen's Birthday Honours for services to the film industry and to charity.
Health problems
However away from the cameras, both Zeta Jones and Douglas have faced illness in recent years.
In 2010 Michael Douglas was diagnosed with throat cancer, although within six months he was reporting his tumour had gone and he was beating the disease.
Zeta Jones revealed in April 2011 that she had been treated for bipolar disorder.
Now, after not having been photographed together in public for four months, the couple have confirmed they are to take some time apart.
Prior to their wedding, the couple reportedly signed a pre-nuptial agreement, which entitles Zeta Jones to £1m for every year of their marriage in the event of the relationship coming to an end.
However, neither party has filed for divorce.