UK chief scientist Beddington knighted in honours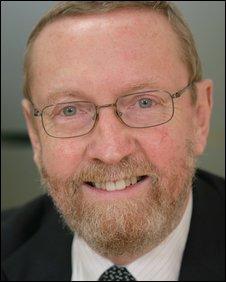 Professor John Beddington, the UK government's chief scientific adviser, has received a knighthood in the Queen's Birthday Honours list.
He attracted media attention last year when he said the world faced a "perfect storm".
He was referring to the impact of climate change on food, energy and water security.
Other recipients include physicist and TV presenter Professor Brian Cox, who has been made an OBE.
Professor Beddington became chief scientist in 2008, succeeding Sir David King.
Responding to the news, Professor Beddington said: "I am delighted by this honour, and particularly delighted because it recognises the importance of science and engineering in the UK."
Formerly the head of environmental sciences and technology at Imperial College, London, he hit the headlines last year when he forecasted a "perfect storm" by 2030.
He suggested that "a whole series of events coming together" could threaten global food, water and energy supplies.
"Can we cope with the demands in the future on water? Can we provide enough energy? Can we do it, all that, while mitigating and adapting to climate change? And can we do all that in 21 years' time?" he asked.
Before taking up the post of chief scientist, his main research interest was the application of biological and economic analysis to the management of natural resources.
Professor Brian Cox, a physicist involved in the Large Hadron Collider project based near Geneva, Switzerland, and TV presenter, said he was "genuinely surprised" when he was told he was to become an OBE.
"You get a letter from the Cabinet Office asking whether you will accept it," he told BBC News.
"So you tick the box saying 'yes' but then - somewhat nerve-wrackingly - you do not hear anything else. So there is always that concern your reply was lost in the post."
Professor Cox is a familiar figure on TV. He recently presented the BBC series Wonders of the Solar System.
"The University of Manchester, which is my employer, has to give me a lot of room to do this kind of thing," he said, referring to his TV work.
"So they have to see it as legitimate and a valid part of being an academic.
"Usually, the standard academic job description is that you teach, you do research and you do administration.
"But I have always thought that there should be a fourth part to this, which is to promote science."
Other recipients of honours in the Queen's birthday list include the new materials expert Professor Colin Humphreys, director of research at the University of Cambridge's Department of Material Sciences and Metallurgy, who receives a knighthood.
Professor Athene Donald, deputy head of the Cavendish Laboratory and director of the Women in Science, Engineering and Technology Initiative at the University of Cambridge becomes a Dame for services to physics.
And Professor Julia Goodfellow, the former chief executive of the Biotechnology and Biological Sciences Research Council, also is made a Dame.