UK industrial output sees surprise fall in April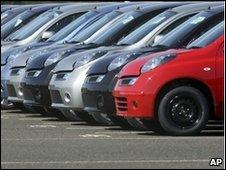 UK industrial output fell unexpectedly in April, but economists have said the figures should not be a cause for concern.
Output fell by 0.4% compared with March, the Office for National Statistics (ONS) said, whereas a rise of 0.4% had been forecast.
It was the first fall in monthly production since January.
Experts said the drop should be seen as a correction after a particularly strong jump in output in March of 2%.
Over the year, output is still rising, as levels were 2.1% higher than in April 2009.
Manufacturing output also fell by 0.4% on the month, but was up 3.4% year-on-year.
"The volatile monthly movements in these figures are somewhat at odds with more positive survey indicators though they conceal a solid year-on-year increase in output," said Lee Hopley, chief economist at the EEF manufacturers' organisation.
Malcolm Barr at JP Morgan said: "I think it is fair to say, relative to people's expectations going into the report, the decline in headline production and manufacturing output is probably a little bit of a surprise and a bit of a disappointment.
"However I don't think it really does a lot to damage the perception that the trend is towards ongoing increases in industrial output."
Related Internet Links
The BBC is not responsible for the content of external sites.