Ex Labour MPs and Tory peer lose expenses ruling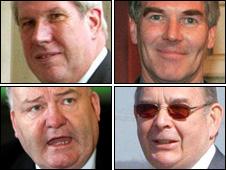 Three ex Labour MPs and an ex Tory peer are set to stand trial over expenses fraud allegations after a judge ruled they could not claim parliamentary privilege to stop prosecution.
Mr Justice Saunders rejected arguments by Elliott Morley, David Chaytor, Jim Devine and Lord Hanningfield that only Parliament could hear their case.
He said there was no bar to a trial.
The four, who all deny charges of false accounting over their expenses, are to appeal against the decision.
If found guilty of charges brought under the Theft Act, they face a maximum sentence of seven years' imprisonment.
In his ruling - delivered at Southwark Crown Court - Mr Justice Saunders said there was no "logical, practical or moral justification" for them using parliamentary privilege to prevent a trial going ahead, adding that there was no legal basis either.
"Unless this decision is reversed on appeal, it clears the way for what most people accused of criminal behaviour would wish for: a fair trial before an impartial jury," he stated.
However, he stressed it was right for the question of parliamentary privilege to be considered and had it not been he would have raised it himself.
Shortly after they were charged in February, it emerged that lawyers for the men were exploring whether to challenge the prosecution on the grounds it might be unlawful.
Their case revolved around the concept of parliamentary privilege - an ancient right protecting MPs from legal action arising from proceedings in Parliament - and seen principally as protecting freedom of speech.
The lawyers argued that privilege extended to expenses claims made by MPs - meaning that only Parliament could deal with alleged abuses and determine sanctions.
But in his ruling, Mr Justice Saunders said the "conduct alleged against these defendants is not covered by parliamentary privilege and is triable in Crown Court".
Although the judge concluded that the expenses system, in and of itself, was covered by privilege individual claims made by MPs were not.
Although the men had been given right to appeal against the verdict, Friday's decision made it more likely they will stand trial later this year.
The charges followed a nine-month police investigation triggered after details of all MPs' expenses claims were leaked to a national newspaper.
Elliott Morley, the former MP for Scunthorpe, David Chaytor, formerly MP for Bury North and ex-Livingston MP Jim Devine were barred from standing at the general election after the allegations surfaced.
Lord Hanningfield, formerly leader of Essex County Council, has been suspended by his party.
Related Internet Links
The BBC is not responsible for the content of external sites.