Missing fisherman found after search of Tynemouth coast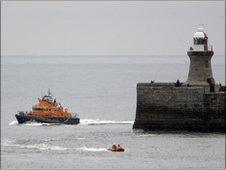 Sixty rescue workers were involved in a two-hour sea search for a 39-year-old man who went missing off the coast of Tynemouth.
The man was later found safe at his mother's house in Wallsend.
A friend of the missing man alerted police at 0400 BST after he fell asleep and found his friend had gone.
He became concerned after finding his friend's fishing gear left at North Pier where the pair had been fishing during the early hours of the morning.
The coastguard, Tynemouth Volunteer Life Brigade, Tynemouth RNLI and police were involved in the search.
Tynemouth RNLI said it was believed at the time the man may have fallen off the pier.
Lifeboats and RNLI lifeguards using jet skis joined the search.
Adrian Don, spokesman for Tynemouth RNLI, said: "In total, around 60 personnel from the RNLI, volunteer life brigades, coastguard and police were involved in the search, with around 40 of those being volunteers.
"We are all pleased the man has been found and the incident has not ended in tragedy."
Related Internet Links
The BBC is not responsible for the content of external sites.