Wokingham council 'unable to pay for flat repairs'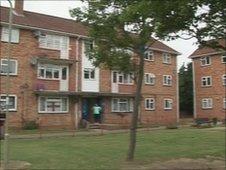 Residents in a Berkshire block of council flats say their homes are in disrepair because the local authority cannot afford urgent improvements.
Wokingham Borough Council says it is unable to afford the work at Eustace Crescent due to a government policy.
The authority gives £4.6m of the £11.5m it receives in rent direct to the government under the Housing Revenue Account subsidy.
Housing Minister Grant Shapps said he is looking at "dismantling" the system.
Tenant David Penn said: "My wife and daughters have breathing problems from the mould spores in the flat.
"I've got damp, mould, water running down the walls.
"I pay my rent in full and it should pay for repairs."
David Lee, leader of Wokingham council, said: "Our tenants are being taxed at roughly 50% of their rent.
"If we could at least keep some of the £5m, it would be great because we could do all sorts of repair work.
"We spend £5.2m on major and minor repairs leaving very little [of the £11.5m] to run the service itself so we're spending as much on repairs as we can."
Mr Shapps admitted the current policy is "a mess" and was being reviewed.
One proposal is to replace the payment of a subsidy with a new self-financing model where councils keep all the rent they collect but take on some additional housing debt.
Related Internet Links
The BBC is not responsible for the content of external sites.