NHS Fife and Dumfries and Galloway turnout criticised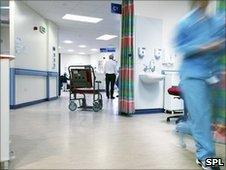 The British Medical Association has said the turnout for NHS elections in Scotland show the public has "little appetite" for them.
Turnout figures for the pilot projects were 13.9% in Fife and 22.4% in Dumfries and Galloway.
Chairman of the BMA in Scotland Dr Brian Keighley said it showed the money would have been better spent elsewhere.
However, Health Secretary Nicola Sturgeon said the elections gave "power back to local people".
The two regions were selected to pilot the process to make health boards more accountable.
Ten new members were returned in Dumfries and Galloway and 12 in Fife.
Dr Keighley said the low turnouts showed there was little public interest in the elections.
He added: "This demonstrates that there is little appetite for these elections and the results are not representative of the majority of the local population.
"We still believe direct elections to health boards would not improve the transparency of decisions or the accountability of the actions of boards.
"At a time of economic hardship, the health spending budget is better spent providing vital services to the local population rather than a costly election process which has received a less than desirable turnout."
He also expressed concern that many of those elected had a political background and would use the NHS as a "political platform".
Dr Keighley said: "The BMA is in favour of encouraging greater involvement and promoting effective governance but we do not believe that direct elections are the answer"
However, Ms Sturgeon said the elections had been a success.
She said: "Elected health boards will give power back to local people.
"They represent a major boost for democracy and accountability.
"This is the single biggest step we can take to re-energise public engagement with the health service."
She said it would put local communities "at the heart of local decision-making".
"Difficult decisions will no doubt still have to be taken but with this kind of guaranteed voice, we will ensure decisions are taken with the full involvement of local people as co-owners of the NHS," she said.
Public sector union Unison also welcomed the board elections.
Scottish organiser Dave Watson said: "We believe this will create a culture change on health boards of more openness and consultation."
The successful individuals in Dumfries and Galloway were Alis Ballance, Lesley Garbutt, Penny Halliday, Alf Hannay, David Hannay, Anna Kelly, Dr John Moore, Tommy Sloan, Andrew Walls and George Willacy.
The new members on the NHS Fife board were Elizabeth Adams, Peter Adams, Susan Archibald, Jayne Baxter, Harry Blyth, Margaret Harper, Ian Lowles, Anne McGovern, Arthur Morris, Dave Stewart, Norma Wilson and John Winton.
Related Internet Links
The BBC is not responsible for the content of external sites.