Strike ballot for Scots teachers over funding cuts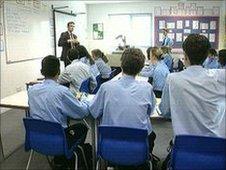 Scotland's largest teaching union, the EIS, has voted to ballot members on strike action.
Delegates at the union's conference in Dundee said cutbacks were to blame for rising class sizes, job losses and school closures.
The Scottish government said cuts were due to a tight Westminster settlement.
Meanwhile, the Secondary Teachers Association is to ballot on industrial action short of a strike over the new curriculum.
It said the Scottish government's measures to tackle problems with implementation had fallen a long way short of what was needed.
If EIS members across the country back the strike call, a day of action will take place in March.
ADES, the non-political body that represents council education bosses, believes schools are experiencing the most serious spending cuts in 30 years.
And there are reports from teachers suggesting pupils in some schools are short of essential items such as pencils, jotters and text books.
If the vote from EIS members is in favour, schools would be facing the first strike in 20 years.
Education Secretary Michael Russell said: "While funding available to the Scottish government - and therefore to local authorities - is under severe pressure, we are providing councils with increasing levels of funding, £35bn for the period 2008-11.
"This support comes despite the Scottish budget being cut by Westminster and has enabled councils to continue to increase education budgets during a difficult economic climate."
This charge is rejected by Labour, which blames cuts on the decision to freeze council tax.
EIS delegates also backed a motion to consider industrial action over curriculum reforms.
Under the changes teachers are meant to create most of their own lessons.
But the union said that for the curriculum for excellence changes to happen, they need adequate materials, training and time.
Three surveys have indicated that many schools - especially those in the secondary sector - are not ready for the new curriculum, which is meant to spread to all schools in August.
Delegates want their leaders to investigate a work to rule as part of their push for more resources.
That would mean sticking to the 35-hour week in teachers' contracts.
The Scottish government said it was providing an extra day's training as part of a series of measures to tackle problems.
Related Internet Links
The BBC is not responsible for the content of external sites.