US teenage sailor Abby Sunderland found in Indian Ocean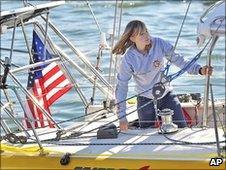 A 16-year-old US sailor who went missing while sailing solo around the world has been found safe and well.
Abby Sunderland's yacht was spotted by an aerial search team in the southern Indian Ocean, midway between Australia and Africa.
Three ships are on their way to pick her up - the first is expected to be with her in 24 hours.
The teenager's family lost contact with her for some 20 hours, after she said she was caught in 30ft (9m) high waves.
Shortly after contact was lost, at about 1300 GMT on Thursday, the yacht's emergency beacons were manually activated, more than 3,220km (2,000 miles) from the coasts of both Africa and Australia.
A Qantas Airbus A330 search plane - scrambled from Perth early on Friday - spotted the teenager's boat, called Wild Eyes, and made contact with her.
Search co-ordinator Mick Kinley, of Australia's Maritime Safety Authority, said the boat's mast was broken but the keel was intact, and the young sailor "sounds like she's in good health".
"She is going to hang in there until the vessel can get to her in about 24 hours," he told a news conference.
Earlier, her parents had posted on her blog: "Wild Eyes is upright but her rigging is down. The weather conditions are abating. Radio communication was made and Abby reports that she is fine!"
The authorities in Reunion Island, near Mauritius off eastern Africa, said they had also been in contact with the yacht, and had sent three boats in her direction - the first of which should reach her by Saturday.
Laurence Sunderland said his daughter would not be resuming her round-the-world attempt once she has been rescued, the AFP news agency reports.
"We've got our Abigail back and the quest will be over," he said. "Knowing that she's alive and well means so much more to me than any sailing record. It's just a huge, huge relief."
He and his wife had rejected criticism from some over their decision to allow her to make the attempt, saying she was prepared and mentally well-equipped to deal with the challenge.
But veteran Australian sailor Ian Kiernan echoed the concerns of others that she would be sailing through the Indian Ocean when weather conditions would be at their most treacherous.
"I don't know what she's doing in the Southern Ocean as a 16-year-old in the middle of winter," said Mr Kiernan, who himself has sailed solo around the world. "It's just foolhardy."
Ms Sunderland, from Thousand Oaks, California, has been following in the footsteps of her brother Zac, who completed his own solo voyage around the globe in 2009 at the age of 17.
She set sail from California in January, attempting to beat her brother's record and become the youngest person to complete the journey.
She had to give up the goal of setting the record after stopping in April at Cape Town, South Africa, for repairs to her boat, although she later decided to continue the voyage.
On Wednesday, the teenager had written in her blog that she had experienced several days of rough weather in which her boat "was rolling around like crazy".
Related Internet Links
The BBC is not responsible for the content of external sites.