World Cup kick-off excites newspapers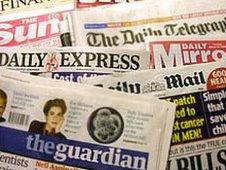 "Cup of hope" is the headline on the front of the Daily Mirror on the day that football's biggest contest finally kicks off.
If the World Cup captures "a fraction of the racially unifying spirit of its rugby equivalent 15 years ago", all the money spent on it will be worth it, the paper feels.
"Come on England, make us proud and bring that trophy home," pleads the Daily Express.
The Sun wants the boys to do it for the "Khaki Army" - British troops in Afghanistan, who have sent a good luck video to the team.
David Cameron comes in for criticism in several papers for not defending BP from US attacks over the Gulf oil leak.
The Financial Times says the PM has at least tried to stress the "economic value" BP brings to the US - words it sees as "a distinct shift of tone".
Poverty adviser and MP Frank Field says there is "a clear case for more money in the early years to help mothers stay at home", but the payments could be withdrawn when a child is 13 or 14.
The Guardian claims that several of the Bloody Sunday killings will be ruled unlawful by the long-awaited inquiry.
Related Internet Links
The BBC is not responsible for the content of external sites.