Preston sisters in international smuggling ring jailed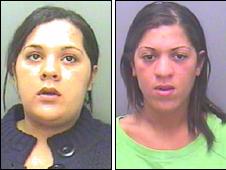 Two sisters from Preston have been jailed for their part in an international smuggling ring.
Nadia and Melissa Nicholls were each sentenced to 21 months after pleading guilty to money laundering at Liverpool Crown Court.
The sisters, aged 25 and 27, both of Guildford Road, were in a gang that used Fiat Multiplas to smuggle arms and drugs between the UK and Europe.
Twenty-four gang members have now been successfully prosecuted.
The sisters were targeted as part of Operation Greengage led by Lancashire Police's Serious and Organised Crime Unit.
Four Fiat Multiplas were used to smuggle the drugs and firearms between the UK and Amsterdam, with money being exchanged at both ends.
In a statement made after sentencing, police said the sisters were both involved in making cash runs.
The investigation began in November 2006, when it focused on Ivan Hue of Robin Street, Preston, police said.
Officers identified that Hue used a network of couriers, which included close family members and friends, to transport funds to Amsterdam to pay for controlled drugs that would then be brought into the UK.
Speaking after the sentencing, Det Sup Steve Mounsey said: "Operation Greengage has been an incredibly complex and protracted investigation which has required an enormous amount of dedication from all involved.
"Untold quantities of drugs and firearms have been stopped from being brought into the UK as a result of the hard work of not only Lancashire police and the Crown Prosecution Service, but police and judicial authorities in Scotland and abroad who have assisted us greatly in this investigation."
Joanne Cunliffe, crown advocate from the CPS Complex Casework Unit in Lancashire, said: "The number of convictions and the lengthy sentences that have been imposed can leave no organised criminal in any doubt that the police, CPS and courts are determined to keep our streets safe and put serious drugs and firearms offenders behind bars."
Related Internet Links
The BBC is not responsible for the content of external sites.