US approves Wall Street share trading rule shake-up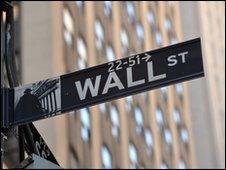 Some US shares face new trading restrictions after regulators approved measures to avoid a repeat of the plunge in share values on 6 May.
Then, the market fall quickly spread out of control, so the Securities and Exchange Commission has implemented so-called "circuit breakers".
These will halt trading in some stocks for five minutes, if they fall more than 10% in five minutes.
The new trading breaks will apply to selected stocks from Friday.
It will eventually be rolled out across all those listed on the New York Stock Exchange.
The trading pause is designed to draw attention to an affected stock, establish a reasonable market price and then resume trading "in a fair and orderly fashion", the SEC said.
SEC chairman Mary Schapiro said the plan would help prevent volatility.
"By establishing a set of circuit breakers that uniformly pauses trading in a given security across all venues, these new rules will ensure that all markets pause simultaneously and provide time for buyers and sellers to trade at rational prices," she added.
The unexpected crash on 6 May drove the Dow Jones down some 700 points within minutes.
An investigation into the mysterious plunge found no single cause was to blame.
Related Internet Links
The BBC is not responsible for the content of external sites.