More than 6,500 comment on coalition policies online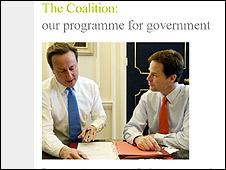 More than 6,500 people have commented on the coalition government's policy programme on the Cabinet Office website.
More than 100,000 people have also downloaded the 34-page document since it was published last month, the Cabinet Office said.
The deadline for posting comments was midnight on Thursday.
Each government department will now respond to issues raised in their policy areas.
The Cabinet Office said particular effort would be focused on those sections which received the most comments, which at the moment are energy and climate change, with 709 comments, and deficit reduction, with 538 comments.
Less high-profile subjects such as transport and local government have also attracted lots of comments.
A Cabinet Office spokeswoman said: "The government is seriously committed to meaningful engagement and collaboration with the public in the online space.
"We have already announced a major public engagement exercise over the summer to help shape the forthcoming spending review.
"Departments will shortly publish their structural reform plans. Members of the public and interested parties will be given an opportunity to feedback on these plans and hold the government to account over its programme."
She said senior ministers would also be taking part in a webcast "in the next few weeks" to deal with some of the points raised by the public.
The coalition's programme, unveiled last month, was hailed by Prime Minister David Cameron as a five-year blueprint for a "radical, reforming" government.
It focused on 31 policy areas including banking, civil liberties, defence, the environment, Europe, immigration, welfare and political reform - some of which the parties have disagreed on in the past.
Comments left by the public include detailed policy suggestions, personal reflections, criticisms, theories and new ideas.
Many of the themes will be familiar to readers of internet message boards - bring back capital punishment, legalise cannabis, scrap Trident, English devolution, get tough on immigration and leave the EU.
But there are also first person testimonies, including one from a woman whose son was murdered, and ideas for improving front line public services from the people who provide them.
"Why are police officers forced to retire at 60?" says one comment in the crime section.
"I joined the police after a life-time in the Forces. I love my job, I think I've brought a lot of life skills to it, but I am going to have a limited time in it because I'll be forced out. I've kept myself fit, walk my beat every day, and have no desire to do anything other than serve and protect my community."
The crime section has attracted a lot of policy ideas, including: "Bring back the 'Drink Tank' or Drunk Tanks as they were known, any person found drunk and disorderly on the streets are collected up and taken to a local secure building of warehouse size, here they would be held until the following day and released with no charge or record".
Another poster suggests the key to reducing crime is in making the prison diet more healthy. Suggestions in the immigration section include building a "hostel in the Shetlands" for new arrivals.
Related Internet Links
The BBC is not responsible for the content of external sites.