Teacher Gemma Garn's Severn crossing death 'mystery'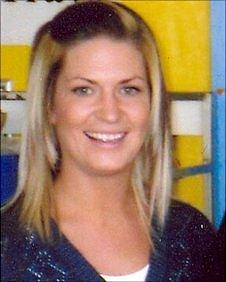 The death of a teacher whose hire car was found on the Severn crossing will "remain a mystery", said a coroner.
Gemma Garn, 26, from Cwmbran, Torfaen, may have stopped for fresh air and fallen into the River Severn following a night out, an inquest heard.
An open verdict was recorded by coroner David Bowen.
After the hearing in Newport, her family criticised what they said was a lack of CCTV coverage on the bridge.
The inquest was told Ms Garn's car was on the hard shoulder of the bridge for five hours before it was investigated by the police.
Ms Garn's sister Theresa said the family would never know exactly what had happened because the police could not gather the evidence they needed.
Ms Garn, a teacher at Croesyceiliog Comprehensive School in Cwmbran, had been celebrating her promotion with friends.
They visited pubs and bars in Cwmbran on 18 December, the last Friday before Christmas.
The inquest heard Ms Garn had drunk cider and wine after taking amphetamine.
She later got into her hire car and drove to the second Severn crossing and was not seen alive again.
Her body was found six weeks later by a fisherman 20 miles downstream in Penarth, Vale of Glamorgan.
Coroner Mr Bowen said: "Gemma had been ingesting amphetamine which had the side effect of allowing binge drinking and also the likelihood of irrational behaviour.
"There is insufficient evidence to show Gemma took her own life. She left no note and had not talked about suicide.
"There may be a simple explanation - she could have become ill and stopped to get air or be sick and then fallen from the bridge.
"But her death will forever remain a mystery."
Ms Garn's family said while more cameras may not have prevented her death, they at least would have revealed what had happened.
Traffic Wales, the assembly government's traffic management service, said it monitored seven CCTV cameras on the second Severn crossing.
A spokesman said: "On the 19 December 2009, a request was received from Gwent Police for footage of relevant CCTV images.
"From camera 75, which is located towards the central eastern side of the SSC [second Severn crossing], a car can be seen travelling along the hard shoulder."
The spokesman said in addition to CCTV cameras, Highways Agency-funded traffic officers and Gwent Police also carried out vehicle patrols across the bridge.
The Highways Agency said it was jointly responsible for routine patrols, with the police, which responded to reports of obstructions, accidents and incidents on the carriageways.
"The frequency of patrols depends on the level of operational demands and available resource in any 24 hour period," said a spokeswoman.
"The patrols respond to calls for assistance from motorists who report breakdowns or incidents captured on the CCTV system which is monitored and operated by Traffic Wales."
Det Ch Insp Peter Jones, of Gwent Police, said the inquest brought to an end an investigation which had lasted more than six weeks.
"Investigating officers did everything they could, including speaking to all of Gemma's family and friends and making numerous appeals through the media, to establish why she drove to that location on that morning," he said.
"The evidence gathered during that investigation was passed to the coroner to help him reach his verdict today.
"Gemma was a much loved daughter, sister and aunt. The tributes paid to her after her disappearance from her family and the rest of the community are testaments to her popularity."
He said police hoped the finding of the coroner would bring "some closure" to Ms Garn's family and friends.
"They have been brave throughout and have provided us with as much information as they possibly could and for that we are thankful. Our sincere condolences remain with them," he added.
Related Internet Links
The BBC is not responsible for the content of external sites.