Oxford Polish bride 'heartbroken' over arrest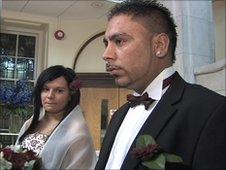 A Polish bride accused of taking part in a suspected sham marriage says she is "heartbroken" after police arrested her on her wedding day.
The UK Border Agency arrested three others, including her Indian fiance, at Oxford Register Office on Tuesday.
Amrik Singh Dahnju, 30, who gave his address as Marshall Road, Cowley, was charged with two counts of perjury at Oxford Magistrates' Court.
Polish national Kamila Snarska, 19, of Oxford, was given a caution.
A 47-year-old British man was released on bail, and a second Polish woman was released without charge.
Two addresses in the city were also raided in connection with the operation.
The UK Border Agency said it could not comment while legal proceedings were ongoing.
Miss Snarska, who speaks little English, said she intended to start a family and set up home with Mr Singh.
She said they had been living together in Oxford for a year and owned two cats.
'Mystified by allegations'
Balvinder Hayre, a senior immigration case worker at BHB Law firm in Coventry, has been representing the couple since February.
Mr Hayre said: "We are mystified because our clients came to us for advice, they made an application to the Home Office based on which they got permission to marry, we are mystified by all these allegations of sham marriage floating about."
He added: "At no point during the Secretary of State's consideration of the application was there any query of the validity of the relationship and then on the day of the wedding to be pulled up about it, is terrible."
Miss Snarska has not seen her fiance, who has been remanded in custody until 8 July, since Tuesday when they were both escorted away in separate cars.
Related Internet Links
The BBC is not responsible for the content of external sites.