US trade deficit widens to 16-month high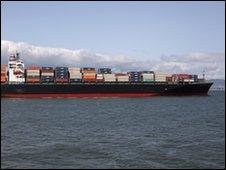 The US trade deficit widened to a 16-month high in April, as both imports and exports fell slightly.
According to the Commerce Department's data the total monthly deficit was $40.3bn (£27.5bn), up 0.6% from March.
Exports fell 0.7% from the previous month to $148.8bn, slightly faster than the 0.4% drop in imports to $189.1bn.
The figures also showed that the trade deficit with China widened by 14.3% to $19.3bn, which is the highest level since November last year.
Earlier, China had reported a higher-than-expected trade surplus for May, which was seen as giving ammunition to those in the US who argue the Chinese yuan is undervalued.
US Treasury Secretary Timothy Geithner, speaking on Thursday to the US Senate Committee on Finance, said global economic reforms were being impeded by China's refusal to revalue its currency.
He told the US Senate Committee on Finance that distortions caused by China's stance were "an impediment to the global rebalancing we need".
The latest US trade data showed that despite the small monthly fall in exports and imports, total trade volumes in April were much higher than the lows reached a year ago, when international trade collapsed in the wake of the financial crisis.
Exports were up 19.9% from April 2009, while imports were up 23.9%.
However, trade levels still remain well below the pre-crisis levels.
Related Internet Links
The BBC is not responsible for the content of external sites.