Firm develops 'forgotten' wave power technology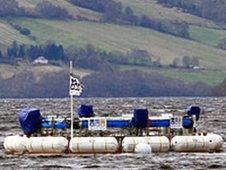 A renewable energy company has gone "back to the future" to develop a device to harness power from waves.
AWS Ocean Energy chief executive Simon Grey said its prototype AWS-III on Loch Ness had evolved from "forgotten" technology first seen in 1985.
He said the device could eventually be used in the Northern Isles.
The technology was also tested on Loch Ness in the 1980s, but the Conservative government of the time suspended the wave energy programme.
Highlands Liberal Democrat MP and chief secretary to the Treasury, Danny Alexander, has visited the test site.
He said the progress being made by the company was impressive.
Mr Grey said Inverness-based AWS Ocean Energy was exploring the idea of a machine which had rubber rather than steel components.
Further research led to staff uncovering the similar concept from the 1980s.
He said: "We discovered that the work done in 1985 was rated as the most promising by the Department of Energy at the time.
"We have since taken that design and evolved it further so it is more cost effective in terms of producing power."
Mr Grey said the wave energy programme in the 1980s was fully funded by the UK government but the work was later suspended.
He said: "When interest in wave energy re-emerged people assumed that because it hadn't happened in the past then those ideas wouldn't work and they had to find new ideas."
The chief executive said AWS-III was a re-working of a concept people had "forgotten about".
The ring-shaped machine on Loch Ness is one tenth of the size of the device that could eventually be generating electricity on a commercial scale.
Full-scale machines could be deployed in the sea around Orkney and Shetland following further tests in 2012.
Investment of £2.3m was secured from the Scottish government to develop the AWS-III.
In 2008, AWS Ocean Energy said it had set its sights on winning the world's largest prize for marine energy innovation.
It said it planned to double its workforce in 12 months, in part to improve its chances of securing the Scottish government's Saltire Prize.
Following a visit to the test site on Loch Ness, Mr Alexander said: "Power from our seas can make a significant contribution to our energy security and the future of our environment."
Related Internet Links
The BBC is not responsible for the content of external sites.