Details of English councils' £1.1bn budget cut revealed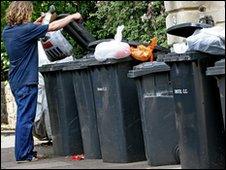 Details of £1.1bn cuts in funding for English councils have been announced - with the communities secretary pledging to minimise the impact on services.
Local education, transport, housing and enterprise budgets will all be cut but ministers said no council would see central funding drop by more than 2%.
Eric Pickles said councils must do their bit as the deficit is tackled.
Councils said the cuts would be "painful" while Labour said the poorest parts of the country would be hit most.
All departments apart from health and international aid - whose budgets are being ring fenced - are having to make substantial savings as part of the government's plans to cut £6.2bn in expenditure this year.
The Department of Communities and Local Government - which has one of the largest budgets in Whitehall - is having to make savings of its own of £780m by cutting running costs and programme budgets.
In addition, the amount of money that central government gives to local authorities is being cut by £1.166bn, comprising of £805m in revenue grant cuts and £360m in lower capital spending.
Among areas most affected are transport projects, new homes schemes and education funds.
However, ministers have insisted that the annual £29bn general grant, used to support core services such as rubbish collection, will not be affected.
Mr Pickles said tough decisions were needed now to prevent financial conditions worsening. He said councils would be given leeway to decide which services to cut.
"Tough fiscal times will be challenging for all but the reductions have been made to reflect the government's policy of decentralisation and a scaling back of the quango state," he said.
"The detailed spending decisions outlined today show a clear determination to make the necessary savings while minimising the impact on essential frontline services collections."
The government was still committed to freezing council tax in England for one year, he said, and hoped to do it for a second year - a manifesto commitment by the Conservatives.
Budgets for housing programmes - including affordable homes - are to fall by £150m, spending on regional development agencies by £186m while Labour programmes to encourage community cohesion and tackle religious extremism will also be scaled back.
Officials said the focus of the cost-cutting programme would be on tackling waste and reducing administration costs in government and quangos.
Council representatives said local government was already the most efficient part of the public sector and finding further savings would be difficult.
"We have to recognise that these cuts will be painful to implement this year and will have a significant effect on services and the people who rely on them," said Margaret Eaton, chair of the Local Government Association.
Councils had already made major spending commitments for the year ahead, she said.
"It is not easy to change their plans in the middle of a year. Extra flexibility to take local spending decisions will help councils cope.
"Further cuts are inevitable and we will work with the government to deliver reform and minimise the impact on services that people rely on."
Among the councils facing the biggest cuts in central funding are Birmingham (£12.6m), Liverpool (£9m), Kent (£8.7m) Essex (£7.5m) and Durham (£6.3m).
Shadow Communities Secretary John Denham said the cuts were "huge" and "unfair" as they would have a disproportionate effect on poorer communities.
"Why is it the impoverished northern mill towns, the ex-coalfields and the struggling seaside towns that will take the largest share of the cuts?," he said.
"Why is it the big cities that will take the largest cuts?"
Related Internet Links
The BBC is not responsible for the content of external sites.