Killer dog 'returned to family' before Liverpool attack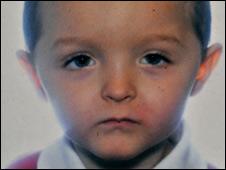 A dog which killed a Liverpool boy had been returned to his family by police after going missing in the months before the fatal attack, a court heard.
John Paul Massey, four, was mauled by his uncle's pit-bull - a banned breed - while staying at his grandmother Helen Foulkes' Wavertree home in November.
The dog was returned by police some months before the attack, Mrs Foulkes' solicitor told Liverpool magistrates.
Merseyside Police said there was no evidence for Mrs Foulkes' claim.
In a statement, the force said: "During interviews with officers Mrs Foulkes alone made this claim.
"Officers looked into this claim at the time and found no evidence to corroborate it."
Mrs Foulkes, 63, pleaded guilty to possessing a dangerous dog at the hearing at Liverpool Magistrates' Court.
She was given unconditional bail to reappear at the same court on 1 July.
Mrs Foulkes, of Ash Grove, was looking after the illegal American pit-bull, called Uno, while her son Christian Foulkes was away on army training.
The dog attacked John Paul in the early hours of 30 November.
Despite efforts to save him, the youngster died shortly after the attack by the dog, which was killed by police marksmen.
Mr Foulkes, 22, was jailed for four months for breeding and owning the dog, after he pleaded guilty to three counts under the Dangerous Dogs Act at Liverpool Magistrates' Court in May.
The Independent Police Complaints Commission (IPCC) is currently investigating Merseyside Police over claims that it did not take action after receiving an earlier report of dog breeding taking place at Mrs Foulkes' home.
Related Internet Links
The BBC is not responsible for the content of external sites.