Record £40m jewellery robbery - professional but flawed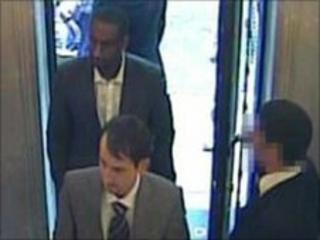 Two men dressed in smart suits study the window display of one of London's foremost jewellery shops.
Wearing disguising make-up, the men walked calmly into Graff jewellery after security guards allowed them through.
But these men were not about to buy.
They were about to carry out the largest jewellery heist in UK history.
Within seconds they had drawn handguns and forced terrified staff to lie on the ground, threatening to shoot anyone who moved.
CCTV footage captured the drama as shop-worker Petra Ehnar was ordered at gunpoint to open a display case.
The robbers grabbed jewels, stuffing them into a bag. As insurance, Ms Ehnar was forced out of the store at gunpoint.
She later described the robbery as "the most terrifying experience a person can be put through".
"I was thinking I am going to be shot, killed," she said.
As they escaped one of the robbers shot at a security guard who had ran after them thinking Ms Ehnar was being kidnapped.
Shoppers took cover as the men jumped in a stolen blue BMW car and sped off.
A short distance away it hit a taxi. But the car sped off before stopping again when more shots were fired at passer-by Robert French who had given chase after seeing the collision.
The bag containing the jewels was handed to a waiting motor cyclist, as the men jumped into a waiting silver Mercedes. Meanwhile a van and a truck were used to hold up traffic.
Within two minutes on 6 August last year, Aman Kassaye, 25, and 27-year-old Craig Calderwood escaped with 43 different rings, bracelets, necklaces and watches with a retail value of more than £40m.
No-one was injured and it seemed an elaborate plan had prevailed.
But it was not long before police began making arrests.
Two days before the raid, the court was told Kassaye hired an unsuspecting professional make-up artist to make him and Craig Calderwood look older to disguise their appearance.
Later that day, they were seen on CCTV gazing into a window of Graff.
The make-up artist, Jessica Goodall, contacted police when she saw the CCTV pictures on TV. DNA was later found on make-up equipment and she picked them out at an ID parade.
In the subsequent trial at Woolwich Crown Court, Graff security guard Eitan Azulay, who was shot at, said he became suspicious because he thought one man was wearing make-up. He radioed his colleague saying "something stinks here", moments before the guns were pulled.
Police recovered the BMW getaway car and, crucially, a mobile phone, purchased the day before the robbery, was found inside along with a sawn-off shotgun.
Then they began tracing suspects through phone records.
Mr Calderwood was arrested at Soho's Freedom Bar, which he frequented, after people there became suspicious when he changed his appearance.
In a letter found in his prison cell and read out in court by prosecutor Philip Bennetts, he admitted his involvement in the robbery.
"I'm truly sorry for the crime I committed," it read.
But he said he wrote the letter while he was depressed and in evidence he said his involvement in the raid was under duress for fear of his life.
The jury could not reach a verdict on Mr Calderwood.
Kassaye only admitted he had a "resemblance" to one of the gunmen. In his defence, Courtenay Griffiths QC, claimed the raid had been an inside job.
But there was no evidence for this and a string of witnesses dismissed it. Kassaye was found guilty of robbery, kidnap and possession of a firearm.
The court was told the "high-stakes" heist was a "professional, organised crime" executed with military precision and well-funded.
But Kassaye, of Battersea Park Road, London - a small-time drug dealer - and his conspirators were foot soldiers, not the brains behind it.
Ian Bourne QC, defending Calderwood, said: "Those at the top, and those who are in control of what is going on... are seldom seen and are never caught."
Clinton "Jamal" Mogg, from Bournemouth, Dorset, was a conspirator in the robbery.
The 42-year-old's father, Clinton Mogg Senior, told BBC News of his "shock" at his son's involvement.
"As far as I was concerned he wasn't brought up that way so there's no need, as far as I know, to go the short way about getting anything."
But what of the jewellery taken? None of it has been traced and a £1m reward from Graff's insurers remains for its recovery.
Robert Read, a jewellery and art expert at insurance underwriters Hiscox, said the chances of finding it are "small".
"Never say never, but the likelihood is the main items have been cut and each week that goes by the jewellery is spreading out into the underworld before it's reintroduced to the open market," he said.
"Big diamonds can be recut, repolished and there's no way you can trace that."
Mr Read said this was one of the largest ever heists in Europe.
"It does seem now the big jewellers, not just in the UK but in Europe, are being targeted," he added.
"The dilemma for the jeweller is he's in the business of selling.
"Maybe we've got to the stage where big pieces of jewellery can only be sold privately."
Two other men were found guilty of conspiracy to rob. They were Solomon Beyene, 25, of Lilestone Street, London; and Thomas Thomas, 45, of Durham Road, East Finchley, London.
Courtney Lawrence, 31, of Ladbroke Grove, London, and David Joseph, 23, of Flaxman Road, London, were both cleared of the same charge.