Dundee bands line up for hospital charity event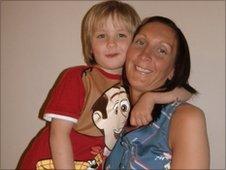 A mother-of-three from Dundee is organising an all-day musical festival in aid of the hospital ward that saved her life.
Lyndsey Tinney, 34, will bring together a host of local talent in support of the neuroscience ward at the city's Ninewells Hospital.
Ms Tinney suffered a brain tumour five years ago and was treated on the ward.
Dundee acts The Mirror Trap, The Twist and Tinylittlerobots are already confirmed in the line-up for Neurofest.
Also appearing are new band Mass Consensus and the festival organisers have promised some "special surprises" on the day.
The event, which will take place at Dundee's Glenesk Park on 19 June, is now in its third year.
Ms Tinney was diagnosed with a brain tumour in 2005 when she was 29 years old and 31 weeks pregnant her third child.
She was induced four weeks early so she could be operated on at Ninewells Hospital. Her son Gary is now four.
Ms Tinney, who expects to receive the results of her annual brain scan next week, said: "It's always a worry when I go back for my scan, but hopefully everything will be fine.
"I am very excited about this year's Neurofest, we have a great lineup and it will be bigger than ever.
"The staff on the ward are total angels and always there to help, so I'm happy to do what I can to give something back."
Ms Tinney said she had raised about £15,000 in the last four years, holding two festivals and a range of other fund-raising activities.
Tickets to Neurofest - which runs from 1300 to 2100 BST - cost £10 for adults and £5 for under-16s. They are available from Groucho's and the Albert Bar in Dundee.
Related Internet Links
The BBC is not responsible for the content of external sites.