Unhealthy living 'almost universal' in Scotland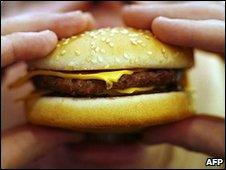 Unhealthy living is almost universal in Scotland, with virtually everyone in the country putting themselves at risk, according to a study.
Glasgow University researchers analysed data from 6,574 people who took part in the 2003 Scottish Health Survey.
They identified five factors which contributed most to disease in richer countries - smoking, drinking, poor diet, physical inactivity and obesity.
The report found that 97% of Scots had at least one of the risk factors.
Some 55% of the population had three or more, while 20% had four or all five risk factors. Poverty was found to increase the risks.
Writing in the online journal BMC Public Health, the researchers concluded: "The Scottish population seems to be living dangerously.
"Considering five major risk factors to health - cigarette smoking, heavy alcohol consumption, poor diet, physical inactivity, and overweight - nearly the whole adult population (97.5%) have at least one behavioural risk factor."
The study was led by Dr David Conway, who said: "Our analysis shows that around two-thirds of the Scottish population is overweight or obese, a similar proportion are not sufficiently physically active, and most people have a poor diet. It is just that it is not the same majority for each factor.
"The most important determinants for multiple risk factors were low educational attainment and residence in our most deprived communities."
He added that the true picture may be even worse due to respondents putting a positive spin on their behaviour.
The Scottish results are similar to those in a recent survey of English behaviour, and suggest both nations are more unhealthy than many European countries, and even North America.
Scotland has earned as unenviable reputation as the "sick man" of Europe in recent years.
The country has higher death rates from cancer, heart disease and stroke than anywhere else in the UK.
The report said that among men, Scotland had more than twice as many alcohol-related deaths than England.
Related Internet Links
The BBC is not responsible for the content of external sites.