West Midlands Police arrest five fans for breaching ban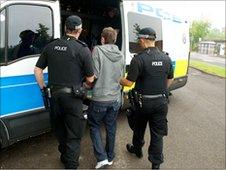 Five men suspected of flouting football banning orders have been arrested as part of a World Cup crackdown.
The men, aged between 20 and 44, were arrested in early morning raids in Birmingham and Wolverhampton by West Midlands Police.
They were held for failing to hand in their passports before the England v Japan match on 30 May, and for failing to attend their local police station.
Officers said they expected to make further arrests in the next few days.
Currently 314 people are the subject of banning orders in the West Midlands but around 90 per cent have handed in their passports.
The maximum sentence for breaching a banning order is six months in prison or a £5,000 fine.
The five arrested men are due to appear before magistrates in Birmingham on 16 June.
Related Internet Links
The BBC is not responsible for the content of external sites.