Nato-led Kandahar operation 'to go slower than planned'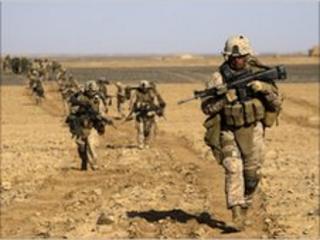 The Nato commander in Afghanistan says a military operation to drive militants out of Kandahar will move at a slower pace than planned.
General Stanley McChrystal said the operation would happen "more slowly" in order to ensure local support.
President Hamid Karzai has said that no operation will begin without the support of tribal elders.
Meanwhile, officials are seeking to confirm reports that a seven-year-old was hanged by the Taliban for spying.
Afghan President Hamid Karzai said that if the report of the boy's public hanging was true, "I don't think there is a crime bigger than that that even the most inhuman forces on Earth can commit".
"A seven-year-old boy can't be a spy. A seven-year-old boy can't be anything but a seven-year-old boy," he said. "Hanging or shooting to kill a seven-year-old boy is a crime against humanity."
The hanging is reported to have taken place in Sangin district in Helmand province on Tuesday.
The Taliban deny killing the boy. A militant spokesman accused provincial officials of propaganda.
The Taliban have also denied involvement in an apparent suicide attack on a wedding party in Kandahar province on Wednesday evening, in which 40 people were killed.
Reports said many of the guests had links to local police or an anti-Taliban militia and that is why they were targeted.
Continued violence
Nato has said that taking control of Kandahar will be the key to reversing the momentum of the Taliban in Afghanistan.
Unlike an anti-Taliban offensive in neighbouring Helmand province which began with a military push, the campaign in Kandahar is being led by a major emphasis on politics.
Gen McChrystal did not specify any timeframe for the offensive, but US forces had planned to start the Kandahar operation this summer.
"It's more important we get it right than we get it fast," Gen McChrystal told reporters.
"I think it will take a number of months to play out," he added.
A meeting of 1,500 tribesmen in Kandahar in April told Gen McChrystal and Mr Karzai that they were not ready for any major military operation.
Nato has hailed as a success the campaign in Helmand, but locals report continued violence.
The Taliban have been waging a battle to overthrow the US-backed government and expel the 130,000 foreign troops there.
UK Prime Minister David Cameron is in Afghanistan for talks with President Karzai, in a week in which nearly 20 Western soldiers have been killed fighting the militants.
Last week, Afghanistan held a national peace council. Delegates invited by the president endorsed a plan to seek peace with the Taliban, who did not attend.