Union urges Tube talks with Boris Johnson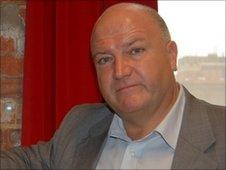 Urgent talks with the Mayor of London have been demanded by a union threatening two 48-hour Tube maintenance strikes.
RMT union members are due to walk out at 1900 BST on 23 June and 14 July in a strike they say will have "severe consequences" across the Tube system.
General secretary Bob Crow said Boris Johnson could not "wash his hands" of the dispute.
Mr Johnson has said he will not talk to unions threatening strikes.
At the moment Tube maintenance work is done by private contractor Tube Lines, which has been criticised for long delays in upgrades.
Transport for London is due to take over the work at the end of the month, and RMT is concerned about the affect with will have on its members.
Mr Crow said: "With TfL and the mayor making a big noise about buying out and taking over Tube Lines, they also need to take responsibility for the mess that the company have left behind.
"The mayor cannot wash his hands of this dispute, which will cause massive disruption for Londoners.
"We are getting nowhere with the management at the rotting corpse of Tube Lines."
The Piccadilly, Northern and Jubilee Lines are expected to be hardest hit in the protest over pay and conditions.
A spokesman for the Mayor of London said: "The RMT are well aware that the mayor has made it clear he will not meet with unions threatening strike action on the capital.
"Rather than threatening disruption the RMT should call off their strike action and hold talks with TfL once their purchase of Tube Lines has been completed."
Related Internet Links
The BBC is not responsible for the content of external sites.