Arrests down by almost 50% at Appleby Horse Fair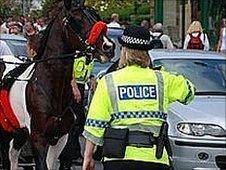 The number of arrests at the annual Appleby Horse Fair in Cumbria fell by almost 50% this year, police say.
There was also a 7% drop in attendance at the week-long event, which ended on 9 June and is one of Europe's largest gatherings of Gypsies and travellers.
The fair was marred early on by complaints from some travellers of heavy handed tactics by the police.
But officials hailed new measures to restrict parking and a clampdown on crime at this year's fair as a success.
A spokesman for the task force set up to monitor the fair said arrests this year fell to 60 from 110 in 2009. These were mainly for drugs-related and public order offences.
Kevin Douglas, chair of the Appleby Fair Strategy Group, said: "The hard work put into arrangements for temporary stopping places worked very well.
"The operational plan we developed last year has again worked well with a further reduction in crime and disorder and disruption to the local community."
Cumbria's Assistant Chief Constable, Jerry Graham, added: "Crime is down compared to last year, suggesting we are successfully creating a safe and enjoyable environment that allows people to visit the fair free from the fear of crime or disorder.
"We will now review our operation, and listen to the views of everyone involved so that we continue to strike a balance between the needs of the settled and travelling communities at this historic event."
Related Internet Links
The BBC is not responsible for the content of external sites.