Darfur Jem rebels free Sudan government soldiers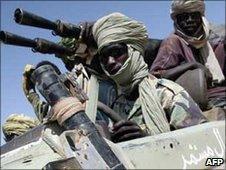 Rebels in Sudan's troubled Darfur region have released 35 government troops held since clashes last week.
A spokesman for the Justice and Equality Movement (Jem) told the BBC that nine of the soldiers were injured, but they had all been well treated.
The spokesman accused the government of trying to "annihilate" his group.
Fighting in Darfur between government and rebels has intensified since Jem suspended its participation in peace talks last month.
The rebels had signed a preliminary peace deal and ceasefire in February, allowing landmark elections to be held in April.
"We honoured our framework agreement, but unfortunately the Sudan government tried to flush us out so it is not us who have violated [it]," Eltahir Adam Elfaki, chairman of Jem's Legislative Council, told the BBC's Network Africa.
About 600 people died in fighting in Darfur last month, the highest monthly toll since UN and African Union peacekeepers were deployed in 2008.
Mr Elfaki said the government soldiers were captured on 3 June when they launched an attack on Jem.
"Nine of them were injured... we could not afford to treat them, so we asked for the International Committee of the Red Cross to come and help in their evacuation and in the treatment of their wounds," he said.
The Red Cross took the captives and transferred them to the army in Nyala, capital of South Darfur, on Wednesday, Reuters news agency reports.
According to the UN, an estimated 300,000 people have died in Darfur and more than 2.6 million been displaced since rebels took up arms in 2003.
The Sudanese government, however, says such figures are a massive exaggeration.
Sudanese President Omar al-Bashir is wanted by the International Criminal Court (ICC) for alleged war crimes committed in Darfur - charges he strongly denies.
Related Internet Links
The BBC is not responsible for the content of external sites.