State of the art eco-centre opens near Machynlleth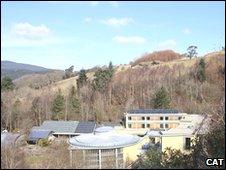 A state of the art "green" college teaching environmental courses has opened in Powys.
Work started on the Centre for Alternative Technology's (CAT) £8m project for the Wales Institute for Sustainable Education (WISE) in 2005.
Students will be able to study courses on wind power, solar water heating and organic gardening.
In April, the eco-centre, near Machynlleth, appealed for £530,000 to help finish its building.
The firm working on the project originally was dropped by CAT and a legal dispute left it using cash reserves to complete the job.
It wanted to recoup the money and within weeks had raised the money needed, which enabled Environment Minister Jane Davidson to open WISE on Thursday.
Ms Davidson said: "Education and training are at the heart of our efforts to build a more sustainable future for Wales, which is why the Wales Institute for Sustainable Education's role in delivering high quality training and education is so important."
CAT director Paul Allen said: "CAT is a world-class training centre with 35 years of expertise and working examples of sustainable technologies.
"No organisation is better placed to deliver training essential to tackle climate change, no building is better built to host that training."
It was built using a variety of sustainable building methods, including an environmentally-friendly concrete called hemcrete, which was sprayed onto heraklith (wood wool) board walls.
There is also energy efficient glazing, which helps heat the building and means conventional power needs are minimal.
Meanwhile, a 200-seater circular lecture theatre was built using a rammed earth system like that used in Cornwall's Eden Project.
The lecture theatre is named after one of CAT's benefactors, Graham Sheppard, who donated £650,000 towards the WISE project.
CAT said WISE would allow people to study vital skills in emerging environmental technologies through its graduate school of the environment and through its short courses.
Ms Davidson will also open a forest garden dedicated to Graham Sheppard's wife, Margaret, a long-term friend and supporter of CAT.
There will also be speeches from Ms Davidson, the Welsh assembly's presiding officer Lord Elis Thomas and scientist Sir John Houghton.
Related Internet Links
The BBC is not responsible for the content of external sites.