Cambridge busway firm 'fined' £6m for delays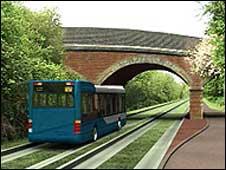 A contractor has "broken its promises" and been deducted damages of £6m for delays to a guided busway in Cambridge, a council has said.
BAM Nuttall, which was due to finish the £116m Cambridge to St Ives busway in February 2009, loses £14,000 for each day it is over the deadline.
Cambridgeshire County Council, which imposed the charge, said BAM Nuttall's progress was "infuriating".
BAM Nuttall said it could not comment under the terms of its contract.
The firm, which has completed the majority of the work, set a self-imposed timetable at the end of April so residents can track the progress they are making.
The council said it had not resolved issues which are delaying the track handover.
A progress report, which was seen by councillors on Wednesday, stated the company is still working on six final jobs which need to be done before the council is satisfied with the track.
Roy Pegram, cabinet member for growth, infrastructure and strategic planning, said: "BAM Nuttall has broken the promises it made to Cambridgeshire residents and it simply is not good enough.
"Some of these defects go back more than one year and were raised at the time they submitted their initial designs which make the latest delay by BAM Nuttall even more infuriating.
"I wanted to have people benefiting from the busway months ago, but we can only accept the route as a completed asset, and not a long-term liability.
"Being deducted damages of almost £14,000 a day for late delivery should be a big incentive for BAM Nuttall to get the job done."
The company's designs for remedying a leak in the St Ives viaduct have not been accepted by the council as they do not fix the problem completely, it added.
The council said it was "frustrated" that the contactor had not yet instructed its designers to correct the flooded cycleway or quantify the fire risk posed by communication cables.
Related Internet Links
The BBC is not responsible for the content of external sites.